April 26, 2023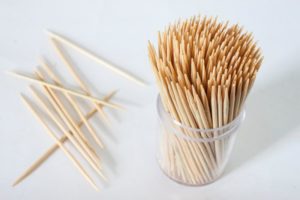 During the peak years of toothpick production, an estimated 75 billion of them were made annually. Today, that number has gone down to eight billion, but that's still impressive when you consider how many people are purchasing and using them! If you're an avid toothpick-user, you'll want to know how they can impact the health of your teeth and gums to avoid unexpected trips to the emergency dentist. Read on to find out whether it's safe to use toothpicks and if there's a better alternative.
What Problems Can Using Toothpicks Cause?
Toothpicks are small, pointed wood splinters that can cause a lot of damage to your smile if you're not careful. While it's completely safe to use them when you have no other option, if you're not careful or use them excessively and aggressively, it could lead to issues like:
Creating Gaps Between Teeth: If you regularly place toothpicks between the same teeth in your mouth, with time, you may notice a space beginning to form.
Damaged Tooth Enamel: While tooth enamel is strong, if you chew on wooden toothpicks frequently, it can wear down this protective layer, leaving your pearly white more susceptible to cavity formation.
Damaged Tooth Roots: When toothpicks are chewed on and used every day, it can cause the gums to recede, exposing more of the tooth root and making it more likely to become damaged.
Gum Lacerations or Irritation: The pointy ends of toothpicks can cause cuts and scrapes on the gums that could become easily infected by oral bacteria if they don't have a chance to properly heal.
What Should You Use Instead of Toothpicks?
While it may be habit to chew on a toothpick or roll one around in your mouth, this can lead to an increased risk of oral damage. To keep this from happening, it's best to substitute your toothpick for dental floss. It's safer for your teeth and gums, and with regular use, you can drastically improve your oral health instead of risking it! If you still want the same effect as a toothpick, you can try using flossing picks instead of regular dental floss.
Although using toothpicks may seem like a non-issue, doing so regularly can lead to oral health problems that you may otherwise never have to deal with. Instead, substitute your habit for a healthier, less harmful one by routinely flossing—it can improve your oral health and give you the same satisfying feeling of using a toothpick!
About the Author
Dr. Rafiq Hirji has over a decade of experience in dentistry, and within that time, he's helped hundreds of patients get out of pain due to emergencies like damaged tooth roots, tooth infections, and more. He's certified in Level 2 sedation dentistry and is happy to see patients of all ages. He also accepts all PPO dental insurance plans, Medicaid, and CHIP, so patients can act quickly without having to be scared of the financial implications of taking care of their smile. For questions or to schedule an emergency appointment, visit Daily Smiles MacArthur's website or call 972-546-4114.
Comments Off

on Is it Safe to Use Toothpicks Regularly?
No Comments
No comments yet.
RSS feed for comments on this post.
Sorry, the comment form is closed at this time.