May 23, 2023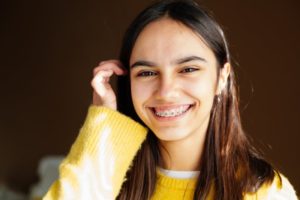 When you first get braces, everything you do can feel new, from eating a snack to brushing your teeth, making it hard to be able to tell if something's wrong or just a typical side-effect of treatment. One of the most alarming and common impacts that traditional braces can cause is the feeling of having loose or wiggling teeth. However, this is often a sign that your treatment is working exactly as it should! Read on to learn why braces can make your teeth feel loose.
How Do Braces Work?
Whether you have traditional wire braces or Invisalign clear aligners, both orthodontic devices work by placing a gentle and strategic amount of pressure on your teeth to shift them into their ideal positions. As you go through the process and your teeth begin to move, you'll need to alternate through different-sized aligners or have your archwire tightened to ensure they keep moving. Eventually, you'll achieve your final results, but the treatment doesn't end there—you'll be required to wear a retainer to maintain your newly aligned smile.
Why Do Braces Cause Teeth to Feel Loose?
The first several months of orthodontic treatment can be the most anxiety-inducing because of the side-effects that you'll experience, like loose and wiggling teeth. This occurs because your treatment is designed to first create a wider space for your teeth by shifting them as they remain firmly attached to the hard and soft tissues below your gumline.
While your teeth may feel a little loose, this is typical and usually isn't something to be concerned about because it means your braces are doing what they're supposed to. Once your teeth have more space in your mouth to move around, they can be shifted into their proper alignment, allowing you to achieve the best possible results.
Can Braces Cause Teeth to Fall Out?
While undergoing orthodontic treatment, you may feel fearful that your teeth are going to fall out because of how loose they feel. However, your braces won't cause this to happen. Poor oral hygiene that results in deteriorating oral health problems like gum disease and decay, are the primary causes for missing teeth, whether you have braces or not. To keep these oral health problems from developing, be diligent about brushing and flossing your teeth, being sure to remove all plaque and food debris from in and around the brackets and archwire.
If you're concerned about whether what you're experiencing with your braces is normal, don't hesitate to give your dentist a call. They'll be able to let you know whether you need to come in for a checkup or put your mind at rest by affirming that your teeth feeling loose is a natural part of the process!
About the Author
Dr. Rafiq Hirji has over a decade of experience in the dental field. Over the years, he has completed countless hours of continuing education, including in orthodontics. This training allows him to offer both traditional metal braces in-office as well as discreet Invisalign trays, so patients can choose the treatment method that best fits their needs. For questions or to schedule a consultation, visit Daily Smiles MacArthur's website or call 972-546-4114.
Comments Off

on Are Teeth Supposed to Feel Loose with Braces?
No Comments
No comments yet.
RSS feed for comments on this post.
Sorry, the comment form is closed at this time.