May 31, 2023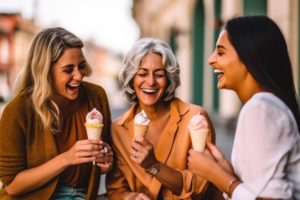 If you're a new denture-wearer, you're likely wondering how these prosthetics are going to change your life, for better or worse. While they offer various benefits, like increasing the different types of foods you can eat, they may also affect your ability to taste them. To learn more about how your replacement teeth may change your taste, read below!
The Connection Between Aging & Changes in Taste
One important factor to keep in mind if you're receiving dentures and are over the age of 40, is that your changes in taste might not be denture-related, but due to your age. As people age, they often notice that their food tastes less delicious and flavorful than when they were a young adult. If you have a parent, you may have noticed that their seasoning has gotten heavier when they cook, too. The reason why is because over time, taste buds shrink and die, unlike when you're younger, they quickly regenerate. This often impacts the tastes of salty and sweet foods first.
Dentures' Ability to Impact Taste
When you receive dentures, if you're already experiencing diminished taste due to aging, these restorations may enhance that issue. Traditional dentures are often designed to cover the roof of the mouth, which plays a large role in helping your body taste and process flavors. Some people may not be as heavily affected as others, though.
To prevent this, you could invest in implant dentures, which are instead anchored to the mouth via dental implants that are surgically placed below the gumline. This means they won't need to be as bulky and cover as much as your palate because they'll have a strong foundation to be attached to, just like your natural teeth. If you do have traditional dentures, routinely cleaning them and ensuring you invest in high-quality prosthetics can also help prevent taste-loss.
Getting the Most Out of Your Dentures
The best way to minimize the impact that your new restorations have on your sense of taste and health is to maintain them regularly, being sure to clean them using denture-safe brushes and cleanser, and rinse them after each meal, preventing the accumulation of food debris and plaque. This will prevent any bad tastes as a result of bacteria deposits and benefit your overall oral health.
As the years go by, if at any point you notice your prosthetic isn't fitting the way it used to, contact your dentist to make sure they fit properly and are relined or replaced as necessary. While you may notice small changes like your sense of taste being affected, the benefits that you'll experience will far outweigh any minor inconveniences.
About the Author
Dr. Rafiq Hirji has over 10 years of experience in the dental field and has helped hundreds of patients restore their smiles with dentures. Offering both top of the line implant dentures as well as reliable and trusted traditional prosthetics, he's able to help meet a variety of patients' needs and smile goals. For questions or to learn more about how to rebuild a grin affected by missing teeth, visit Daily Smiles MacArthur's website or call 972-546-4114.
Comments Off

on Can Dentures Affect Your Sense of Taste?
No Comments
No comments yet.
RSS feed for comments on this post.
Sorry, the comment form is closed at this time.