June 8, 2023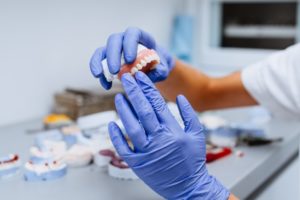 Stepping up to the plate to take care of your smile can sometimes be a longer process than expected, especially if you require preparatory treatments before you can replace your missing teeth. These added procedures can tack on more recovery and treatment time to your smile restoration journey, and while that may be disheartening, remember that in the long run, doing so will allow your full or partial dentures to last longer and serve you better. Read on to learn more about what your timeline will look like if you need one or more teeth extracted before you can restore your grin with dentures.
Why Do You Need a Tooth Extraction Before Dentures?
The reason your dentist may recommend having one or more teeth extracted before receiving dentures is to ensure the longevity of your restoration. In cases where you have existing teeth that are severely damaged, worn-down, or loose, it's likely that they will need to be removed in the near future or fall out on their own.
Instead of taking a reactive approach that may require you to be re-fitted for a new restoration a year or two down the line, they'll likely recommend just removing those teeth so they can be replaced alongside your others. This will allow the new restoration you receive to be relevant to your tooth loss situation two, five, or even seven years down the road.
How Long Does it Take to Recover from a Tooth Extraction?
It's crucial to allow enough time for the gums to completely heal after a tooth extraction before they begin supporting your denture. On average, this can take between six and eight weeks, so long as you closely follow your dentist's post-operative instructions and avoid any complications.
While there's no way to rush your body through the healing process, there are habits you can take part in that can slow it down, prolonging your recovery. If you're able to, quitting smoking and drinking will help your blood circulation, making sure that your gums have enough blood flow to produce new cells to repair the area.
What's the Timeline for Getting Dentures?
Once you've healed from your tooth extraction, you'll begin the process of getting dentures, which can take anywhere from around six weeks to a few months, depending on the extent of your treatment plan. This is because each restoration is custom-crafted by skilled dental laboratory technicians, and you'll need to visit your dentist regularly for routine fit-checks to make sure they'll function and look like natural.
Once you receive your final dentures, all of the benefits and your new confidence boost will help you understand just how worth it this process is. Although you may get antsy through the healing and waiting periods, the investment in a complete and healthy smile will be life-changing!
About the Author
Dr. Rafiq Hirji has over a decade of experience and has helped hundreds of patients restore their smiles with dentures. From traditional, tried-and-true prosthetics to implant-retained ones, he offers a variety of treatment options that are customized to fit each of his patients' individual needs and smile goals. For questions or to learn what tooth replacement solution is best for you, visit Daily Smiles MacArthur's website or call 972-546-4114.
Comments Off

on The Journey from Tooth Extraction to Dentures
No Comments
No comments yet.
RSS feed for comments on this post.
Sorry, the comment form is closed at this time.