June 15, 2023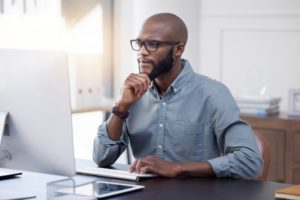 Dental implants are no small investment, but they offer a priceless return on your investment in the form of life-changing benefits, like a complete and healthy smile that's lifelike in every aspect. If you're considering this leading-edge solution to tooth loss, you'll want to choose a provider with all of the traits of a great implant dentist, from additional training to the latest technology. Read on to learn about five things to look for before choosing your implant dentist.
1. Dental Technology
The planning and placement of dental implants is an exact art, which is why it's necessary to choose a provider who uses the latest technology, including:
Cone Beam CT Scanner: This device is able to capture a detailed, 3D view of the entire facial structure, including the jawbone, tooth roots, sinuses, and facial nerves. This allows implant dentists to precisely secure the implants in places that offer the most support.
Digital Impression System: When it comes to the crafting of your final restoration, precision is key. Using a digital impression system, your dentist will be able to capture an exact blueprint of your mouth to send to the dental laboratory.
High–Quality Dental Materials: By using high-quality, lifelike dental materials that are built to stand the test of time, like titanium implant posts and ceramic and porcelain replacement teeth, you'll be able to enjoy your smile for longer.
2. Additional Training
While any dentist can call themselves an "implant dentist," only those who have completed advanced training and education have the extensive, specialized experience necessary to achieve the ideal results. Be sure to ask your potential future implant dentist about their training and make sure they're qualified to rebuild your smile.
3. Start-to-Finish Convenience
Implant dentists who have completed extra training and education are oftentimes able to complete the entire procedure in-house, including the surgical placement of the implant posts. This adds a layer of convenience to the process, as you won't have to worry about traveling to a different provider in the middle of your treatment.
4. Patient Reviews
Have you researched their Google, Facebook, or HealthGrades reviews? This is one of the most important parts of the process in finding the best implant dentist. Trust plays a critical role in smile restorations, and if you see that other patients trusted this implant dentist and it paid off for them, you may be more positive and comfortable scheduling an appointment with them!
5. Portfolio or Smile Gallery
Dentists with ample experience restoring smiles with dental implants usually have a portfolio or smile gallery that they can show you. This will help set your expectations and allow you to see the results they're able to achieve.
About the Author
Dr. Rafiq Hirji has over a decade of experience as a dentist as well as specialty training and education under his belt that allows him to complete the entire dental implant process under one roof. He uses the latest technology to ensure the best possible results, and he enjoys taking a collaborative approach when it comes to helping rebuild patient's smiles. For questions or to schedule a consultation, visit Daily Smiles MacArthur's website or call 972-947-9625.
Comments Off

on 5 Traits to Look for in a Great Implant Dentist
No Comments
No comments yet.
RSS feed for comments on this post.
Sorry, the comment form is closed at this time.