July 12, 2023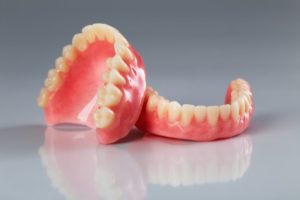 Unlike your natural teeth, restorations like your full or partial dentures aren't able to last forever. This is mainly due to the fact that they can't change as your facial structure does, meaning you'll likely notice that they don't fit like they used to down the road. This can make it difficult to eat and speak and even result in oral sores or irritation along the gumline. If you notice these signs, you'll need to visit your dentist to speak about having them relined. Read on to learn more about what you can expect during this process.
Why Do Dentures Need to Be Relined?
When your teeth go missing, the underlying root structure is no longer signaling your body to continue regenerating bone in your jaw, causing it to gradually erode with time. This means that both the soft and hard support tissues in your mouth will naturally begin to change. The only exception to this is if you opt to have your dentures supported by dental implants, which are inserted below the gumline and into the jawbone.
Over time, as the supportive tissues begin to deteriorate and change, you'll likely notice complications with your dentures, including sores and ulcers, irritation, and infections. You may even notice that your mouth begins to smell due to food and plaque becoming trapped beneath your ill-fitting dentures. These are all signs that it's time to take them in to your dentist and have them relined.
The Process of Having Your Dentures Relined
Unlike crafting brand-new dentures, having them relined is fast and simple. If the hard foundation of your dentures causes discomfort and tenderness, which is especially common for those who have had oral surgeries like tooth extractions or dental implant placements, you may opt to receive a soft reline. This process can be completed within 30 to 60 minutes at your dentist's office.
If the cause of your dentures not fitting properly has to do with the underlying tissue structure that supports them changing, you may opt for a hard reline. This process can typically be completed within one to three days, depending on your dentist, and is similar to a soft reline, except that it uses more durable materials.
When Can You Tell if Dentures Need to be Replaced?
Dentures typically need to be replaced every five to seven years to ensure that they fit properly and still have their natural, beautiful appearance. However, if you accidentally break them while cleaning them or damage them in any other way, this may also warrant a replacement. The best way to learn whether your restoration is in good health and shape is to visit your dentist regularly like you would with your natural teeth. They can professionally clean and inspect them for any fissures or cracks, minimizing the chances that you'll experience unwanted side-effects like bad breath and oral sores.
About the Author
Dr. Rafiq Hirji has over a decade of experience under his belt and is passionate about helping his patients achieve their best and healthiest smiles. He has undergone countless hours of additional education and post-graduate training, allowing him to provide truly comprehensive dentistry for patients of all ages, from checkups and cleanings to replacing missing teeth with traditional and implant dentures. For questions or to schedule an appointment, visit Daily Smiles MacArthur's website or call 972-546-4114.
Comments Off

on Need Your Dentures Relined? Here's What You Can Expect
No Comments
No comments yet.
RSS feed for comments on this post.
Sorry, the comment form is closed at this time.