July 18, 2023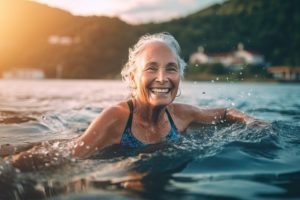 Missing teeth are often associated with aging. However, gaps in your smile can develop at any point in your life, whether it's due to an unexpected dental emergency or worsening oral health problems. In the past, the best way to replace these missing teeth was with traditional restorations that were either anchored to your existing, healthy teeth or held in place with natural suction within the mouth. Today, many people who relied on dentures and bridges are now turning to a less invasive, modern treatment that offers them more benefits, called dental implants. Fortunately, whether you're 20 or 80 years old, this versatile procedure can benefit people across every generation.
Is There Such Thing as Being Too Old for Dental Implants?
Dental implants are an incredibly effective treatment for patients of all ages. It is more invasive than traditional restorations because it requires a surgery, but it poses little-to-no risks to most people, regardless of their age.
In short, there's no age that's too old for dental implants, and it's often recommended to invest in them as early as possible so you can enjoy their long lifespan of 35 or more years with routine maintenance.
There have also been several studies that have tested the success rates of implants in older patients. For example, one showed that after two years of being placed, dental implants in patients between 65 and 89 years old experienced impressive success rates of up to 99.98%. This study ultimately concluded that "implant therapy can be successfully provided to elderly patients and that age alone does not seem to affect the implant survival rate."
How Do Dental Implants Compare to Traditional Dentures?
Implant replacement teeth take the benefits of traditional restorations and combine them with a placement technique that offers more stability and strength. Dental implants are surgically placed below the gumline and into the jawbone to replace the roots of missing teeth. Then, restorations like bridges and dentures are attached to the implant posts, holding them steadily in place.
The added unwavering foundation of dental implants eliminates any slipping or shifting that could occur with traditional dentures. It also minimizes impact on surrounding, existing healthy teeth as well. The final result is replacement teeth that closely mimic the look and feel of natural ones.
How Can Dental Implants Benefit Older Adults?
Dental implants offer a slew of benefits for patients across all age ranges, such as:
A long lifespan of over 35 years.
Replacement teeth that are easy to maintain.
Minimally invasive solution for tooth loss.
Natural looking and feeling restorations.
Preservation of facial structure.
Prevention of jawbone erosion with time.
Improved ability to eat and speak.
The best way to learn whether you're a good candidate for dental implants is to schedule a consultation with your dentist. From there, they'll be able to walk you through all of your restorative treatment options to help you make an educated and sound decision for the future of your smile.
About the Author
Dr. Rafiq Hirji has over 10 years of experience in the dental field, helping his patients rejuvenate their smiles affected by tooth loss. He provides a comprehensive list of restorative services, including traditional dentures and bridges as well as leading-edge dental implants. For questions or to learn whether you're a good candidate for this procedure, visit Daily Smiles MacArthur's website or call 972-947-9625
Comments Off

on Are You Too Old for Dental Implants?
No Comments
No comments yet.
RSS feed for comments on this post.
Sorry, the comment form is closed at this time.