August 2, 2023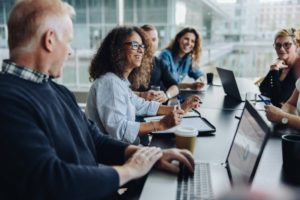 It truly is never too late to straighten your smile, but as an adult, living with braces can present some unique challenges. While the oral and overall health benefits of straightening your smile will outweigh the inconveniences of going back to work with braces, there are ways you can minimize the impact of your treatment on your life. With these four survival tips, you'll be able to perform at your best, stay professional, and remain on track with your treatment timeline.
Create a Braces Maintenance Kit
Before returning to work with your braces, it's a good idea to put together a braces care kit to bring with you each day. Because your orthodontic appliance requires routine and diligent maintenance, you'll need to carry certain important items with you whenever you're away from home for several hours. Be sure to include the following in your kit:
Travel dental floss or floss picks
Mouthwash
Fluoride toothpaste
A toothbrush
Non-aspirin pain reliever for soreness
Dental wax
You can place all of these items in a sleek travel toiletry bag or any other professional-looking container that you can have at your desk.
Stay Hydrated with a Reusable Water Bottle
Staying hydrated throughout your treatment is important. Regularly drinking water can help rinse away food debris and bacteria from hard-to-reach areas of your mouth, especially if you're prone to dry mouth. The best way to do this is to bring a reusable water bottle from home. That way, you're able to reduce your waste as well as your risk of developing common oral health problems like cavities.
Be Mindful of the Foods You Eat
Whether you're snacking or eating your lunch, it's important to bring braces-friendly foods that won't risk a dislodged bracket or broken wire. Instead of resorting to crunchy and chewy foods, stick to softer ones, like smoothies, pasta, salads (without hard, raw vegetables), and tender meats. Be sure to also cut your food into easy-to-chew, bite-sized pieces.
Keep Smiling & Exuding Confidence
If your coworkers or clients aren't aware that you're getting braces, it may feel daunting to have them view your smile for the first time after having them put on. Remind yourself that you're doing this for your health and smile, and that your orthodontic appliance doesn't define you! Keep smiling, being confident, and owning your braces in professional settings, and remember that they won't be there forever!
About the Author
Dr. Rafiq Hirji has over a decade of experience in the dental field and has completed countless hours of post-graduate education, including training in orthodontics. This allows him to offer multiple orthodontic treatments, including traditional braces and Invisalign clear aligners, to help straighten teeth and improve oral health. To learn whether you could benefit from either of these services, visit Daily Smiles MacArthur's website or call 972-546-4114.
Comments Off

on 4 Survival Tips for Going to Work with Braces
No Comments
No comments yet.
RSS feed for comments on this post.
Sorry, the comment form is closed at this time.