August 9, 2023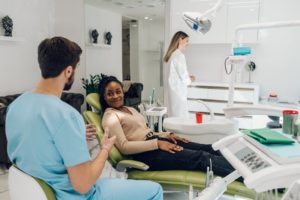 Over the last 20 years, dental implants have gradually moved to the forefront of treatment recommendations to replace missing teeth, as their advanced technology has become more accessible than ever. If you already have a traditional restoration, like a bridge or denture, that doesn't mean that you missed out on your shot to enjoy all of the benefits that this leading-edge treatment has to offer. You can still replace your existing restoration with dental implants, you may just encounter some bumps along the way. Read on to learn what you can expect during the process.
What Types of Restorations Can Be Replace with Dental Implants?
One great pro of dental implants is that they have the ability to replace any number of missing teeth, so whether you're missing a single tooth or an entire row, you can replace your existing restoration with implants. Here are some different types of implant restorations that your dentist may recommend based on your situation:
Implant Crown: An implant crown would replace a traditional bridge by securing one dental implant below the gumline and topping it with a free-standing dental crown. This would be recommended to restore one missing tooth.
Implant Bridge: An implant bridge would replace a traditional dental bridge. Instead of anchoring the restoration to your existing teeth, your implant dentist in Irving would secure two dental implants at either side of the gap in your smile. This would replace consecutive missing teeth.
Implant Denture: To anchor a traditional denture in place, your dentist can place four to eight dental implants along the gumline and into the jawbone.
All-on-4: If you've had traditional dentures for awhile and have experienced jawbone erosion, your dentist can secure a denture using four strategically placed dental implants. This treatment is designed to harness the power of the densest areas of your jawbone to prevent the need for a bone graft.
Snap-On Denture: Removable dentures, also known as "Snap-On" dentures can also be used in cases where jawbone erosion has occurred. They're secured to the mouth with two to five dental implants.
What Barriers Could You Face?
If you're opting to get dental implants after years of having a traditional prosthetic, you may encounter one main bump during your transition. Jawbone erosion likely has occurred because in the area where your teeth are missing, whether that's a single tooth or several, the bone has likely thinned and may be unable to support a dental implant. In these cases, depending on your tooth loss situation, you may either be able to opt for All-on-4 or Snap-On dentures or get a bone graft.
During your initial consultation, your dentist will walk you through all of your options, making sure to answer any questions you may have and help you feel comfortable and confident moving forward. This includes speaking to you about any required preliminary treatments and outlining the entire treatment process with you.
About the Author
Dr. Rafiq Hirji has over a decade of experience replacing and repairing smiles, as well as countless hours of continuing education courses beneath his belt. This allows him to offer start-to-finish dental implant treatment under one roof so you can stick with the same, trusted provider you started the process with. He enjoys being able to restore his patients' confidence and comfortability with their smiles by offering leading-edge, highly successful treatments like dental implants. For questions or to schedule a consultation, visit Daily Smiles MacArthur's website or call 972-546-4114.
Comments Off

on Can You Replace an Existing Restoration with Dental Implants?
No Comments
No comments yet.
RSS feed for comments on this post.
Sorry, the comment form is closed at this time.