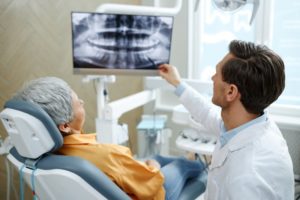 Whether you're still in the planning stages of restoring your smile with dental implants or you've already booked your consultation with an implant dentist near you, it's never too early to start learning about what you can expect. Although this leading-edge treatment has a lot to offer, it's an investment of your time and money, so it's good to be prepared for that. Read on to learn what your dental implant consultation will look like so you can start your journey off worry-free.
Meet Your Implant Dentist
If your implant dentist isn't your general dentist, you'll both likely want to take a moment to get to know each other to help build trust and better understand who you'll be working with. Take this opportunity to ask them about whether they have before-and-after photos they can show you and even learn about what type of person they are. You can also do this ahead of time by reading their biography on their website!
Diagnostic Images are Taken
In order to create a thorough treatment plan, your dentist will need to examine what lies below your gumline. In order to do this, they'll likely capture a cone beam CT scan of your facial structure. This will provide them with a 3D blueprint of your entire face and mouth, allowing them to see the density of your jawbone, location of your nerves, and your sinuses.
Thoroughly Examine Your Mouth & Review Your Health History
Once your dentist has access to your oral scans, they'll conduct a thorough review of the images as well as a physical evaluation of your teeth and gums. If signs of decay or other oral health problems are spotted, these will likely need to be addressed before moving forward with your implant placement. Your implant dentist will also speak with you about your dental and medical history to gather a complete picture of what your treatment will look like. If you have chronic or underlying conditions, they can collaborate with your primary care physician to make the process as safe and smooth-running as possible.
Going Over the Treatment Plan & Moving Forward
Based on their thorough evaluation, your implant dentist will develop a customized treatment plan for you. Before you consent to moving forward, they'll outline each step of the process so you understand exactly what you'd be signing on for. This is also the perfect time for you to ask any questions that pop up. Before you leave, the front desk staff will speak with you about all of your payment options and book the next step in your procedure—your dental implant surgery!
About the Author
Dr. Rafiq Hirji is a skilled implant dentist with well over a decade of experience. He has completed countless hours of continuing education courses, and thanks to his breadth of knowledge and skills, he's able to complete the entire dental implant process from beginning to end. For questions or to schedule a consultation and start your journey towards a complete and healthy grin, visit Daily Smiles MacArthur's website or call 972-546-4114.