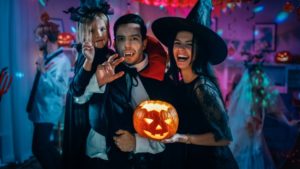 With Halloween quickly approaching, you may be trying to brainstorm the scariest costume to show up to your friend's party in. While the first ideas that come to mind may be zombie, vampire, and horrifying dentist, you may want to think twice about your last option! Dentists have a bad reputation of causing pain and tinkering in the mouth, which has no doubt fed into the estimated three percent of adults the have dentophobia. However, despite these presumptions, dentists are actually here to help keep your smile healthy and happy, nothing more! Read on to learn five reasons why you shouldn't be afraid of visiting the dentist this Halloween.
1. Your Appointment Won't Last Forever
If you have dental phobia or anxiety related to visiting the dentist, the overwhelming emotional feelings you may get leading up to your appointment may keep you from being able to rationalize with your fear. Whether you're getting a checkup and cleaning, cavity filling, or going in for a consultation to learn how you can replace missing teeth, these visits won't last forever. In fact, many don't exceed two hours, depending on what you're seeing the dentist for!
2. Dental Sedation is a Great Option if You're Fearful
If anxiety and fear strike you each time before you visit your dentist, you may want to ask them if they offer sedation. Nitrous oxide and oral conscious sedation are fast-acting ways to help you feel relaxed and at-ease in the treatment chair, helping you have a more positive and enjoyable experience.
3. They Help Relieve Pain, Not Cause It
Dentists are often portrayed as the ones causing your pain, not relieving it. However, that's simply not true. Today, local anesthesia, dental sedation, and other pain-relieving services are provided before dentists complete treatments, allowing you to have a comfortable visit from start to finish. If at any point during your appointment you aren't comfortable, simply raise your hand in your treatment chair and let your hygienist or dentist know, and they can give you a moment to take some deep breaths and get comfortable again.
4. Good Dentists are Compassionate & Understanding
Finding a patient and compassionate dentist will make all the difference during your dental experience because they'll help educate you about the problems you face, let you know what's happening before it happens, and understand your fear. This can make a world of difference at each of your appointments.
5. Treatments Aren't as Invasive as You May Think
In the past, dentists didn't have a lot of the technology that they use today, like dental X-rays, biocompatible composite resin, and a variety of other devices and materials. These not only make your appointments more streamlined and simple, but they also make treatments like cavity fillings as minimally invasive and pain-less as possible, in addition to the use of local anesthesia. Thanks to these advancements, each of your visits is more comfortable.
About the Author
Dr. Rafiq Hirji has over a decade of experience and truly loves building long-lasting relationships with his patients. He always offers a compassionate listening ear for those who experience fear or anxiety at the thought of visiting the dentist and does whatever's needed to help them feel right at home in the treatment chair. He's also certified in Level 2 dental sedation and offers nitrous oxide and oral conscious sedation. For questions or to schedule an appointment, visit Daily Smiles MacArthur's website or call 972-546-4114.