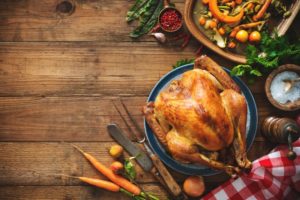 Thanksgiving is all about being with family and recognizing the joy in your life. Even traits as small as your teeth deserve a little appreciation, as they allow you to savor all of your favorite foods as well as make excellent first impressions during job interviews and blind dates. This Thanksgiving, show your smile a little appreciation by following these four dental health and habit tips to help your teeth thrive.
Avoid Loading Up on Holiday Sweets
Most people know that eating too much sugar can lead to cavities but aren't sure exactly why. Harmful oral bacteria that are responsible for decay, gum disease, and other dental health issues love to feed off of carbohydrates, like sugar. When they do, they release waste in the form of enamel-eroding acid, which deteriorates the tooth structure when left untreated, ultimately carving a path for the bacteria to infect the pulp within the tooth's inner chamber.
While it can take several months for cavities to develop, for many people, the holidays are the starting line for pesky decay. With so many tempting pies, cookies, fudge, and other delicious homemade treats, it's best to not snack on them throughout the day, as it can lead to bacteria accumulation and cause cavities to develop.
Schedule Your Routine Checkup & Cleaning
If you know that you'll be eating more sweets and drinking sugary beverages, like eggnog and apple cider, the holidays are the perfect time to schedule a checkup and cleaning with your dentist. By clearing away all of the plaque and tartar from the surface of your smile, as well as thoroughly examining your teeth and gums and treating any lingering dental problems, you can breeze through the holidays with a clean bill of health.
Eat More Tooth-Healthy Snacks & Meals
Did you know there are certain foods that you can eat to help boost your oral health? Here are some holiday substitutions you can make that will be better for your teeth:
Instead of sweet drinks like eggnog, substitute water or tea, as these help wash away carbohydrates and prevent bacteria accumulation.
To satisfy your sweet tooth, substitute fresh fruits or pumpkin pie, which is high in vitamins C and A to help strengthen your enamel.
Ham and turkey are excellent holiday proteins and are high in minerals like phosphorus and zinc, which can strengthen bones and protect your smile from cavities.
If you love cranberry sauce, ditch the molded one served from a can and opt for a fresher version, as fresh cranberries can help prevent bacteria build-up.
Be Better About Flossing
With so many get togethers planned with your friends and family, the holidays can be exhausting and busy. Despite this, it's important to keep up with your regular dental hygiene practices, especially flossing! The American Dental Association recommends flossing your teeth at least once a day in order to maintain healthy teeth and gums. It only takes a moment to do, and future you will thank present you!
About the Author
Dr. Rafiq Hirji has over a decade of experience in the dental field and has completed numerous advanced education and specialty training courses to expand his clinical expertise. From children's dentistry to cosmetic and orthodontic services, Dr. Hirji and his team offer a comprehensive menu of treatments tailored to fit virtually any patient's needs. For questions or to schedule an appointment, visit Daily Smiles MacArthur Dental & Orthodontics' website or call 972-546-4114.