November 7, 2021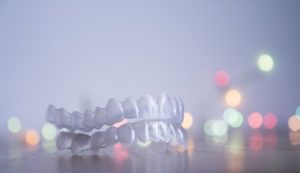 The holiday season is almost here! Are you ready for the hustle and bustle of decorating, shopping, wrapping, and seeing family and friends? With so much going on, it can be easy to accidentally forget to take care of the little things, such as following your Invisalign plan. However, if you're not careful during the holidays, your journey towards a straighter smile could get off course! Use these four simple and practical tips to keep your Invisalign treatment on track this season.
1.) Make Time for Brushing
Whether you're getting up early to get some shopping done or staying up late to spend time with loved ones, you may be tempted at times to skip your daily dental routine. However, no matter how tired or rushed you're feeling, it's essential that you always take the time to brush your teeth for two minutes every morning and evening! Skipping even once will allow a significant amount of plaque and bacteria to build up in your mouth, which can stain your aligners, cause bad breath, and lead to cavities. Two minutes of brushing twice a day will make all the difference in keeping your smile sparkling and healthy this holiday season!
2.) Keep Your Storage Case with You
Will you be out and about or on the go? Make sure to keep your storage case with you! If you don't, you may end up wrapping them in napkins, stuffing them in your pockets, or leaving them out somewhere should you need to take them out for any reason. You're far less likely to lose or break your aligners if you just keep your aligner case with you!
3.) Don't Snack with Your Aligners in
It's no secret that there are more snacks available this time of year than practically any other. With so many seasonal treats readily available, you may be tempted to take a small bite or tiny sip without going to the trouble of removing your aligners. While this may seem convenient in the moment, it could potentially cost you a tremendous amount of time and money! Your aligners are not indestructible, and they can easily crack or warp if they are exposed to foods or drinks. If you're going to enjoy anything other than water throughout the day, make sure to take out your aligners every time.
4.) Wear Your Aligners!
Remember: your aligners will only work if you wear them, and you will only keep your treatment on track by wearing them for at least 20-22 hours a day. If you end up taking your aligners out for any reason this holiday season, make sure to remember to put them back in as soon as you can! In order to remember, you may need to write yourself a note, set a reminder on your phone, or ask a family member to help you keep track of the time.
Invisalign is by far the easiest and most convenient way to straighten your smile during the holiday season. Remember these simple tips to keep your treatment on track!
About the Practice
At Daily Smiles MacArthur Dental & Orthodontics, we strive to make achieving and maintaining a healthy, beautiful smile easy. Not only do we offer a wide range of state-of-the-art treatments, but we are also proud to have Saturday appointments available to fit into your schedule better. Plus, with flexible financing options available and dental insurance welcome, we can help make your treatment more affordable than ever. To learn more about Invisalign and how to keep your treatment on track this holiday season, contact us online or at (972) 546-4114.
Comments Off

on 4 Tips for Surviving the Holidays with Invisalign
No Comments
No comments yet.
RSS feed for comments on this post.
Sorry, the comment form is closed at this time.